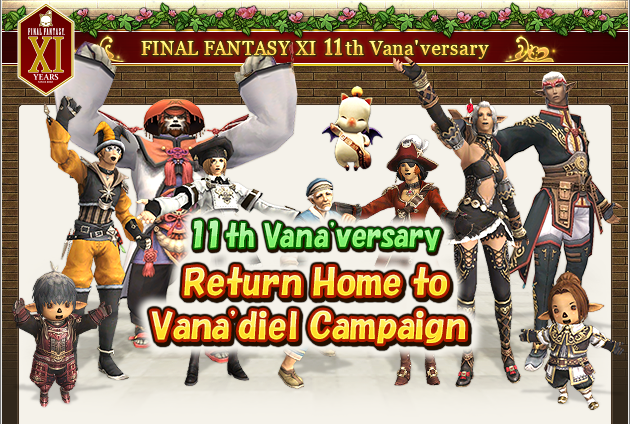 LOS ANGELES (Dec. 10, 2013) – To commemorate the eleventh anniversary of FINAL FANTASY® XI , SQUARE ENIX, Inc., the publisher of SQUARE ENIX® interactive entertainment products in the Americas, has announced two "Welcome Back" campaigns for returning players. As limited-time opportunities, these campaigns will allow adventurers to return to the ever-evolving world of Vana'diel and experience thrilling new content and overall game improvements.
The Vana'diel Experience Campaign
Planned to begin at 7:00 a.m. Pacific Standard Time (PST) today, all inactive players who have previously subscribed to FINAL FANTASY XI will automatically have their accounts reactivated and will be able to play free of charge during the campaign period. To participate, the player's PlayOnline account must be inactive, as well as transferred to the Square Enix Account system. This campaign will end on Monday, December 23 rd at 6:59 a.m. Pacific Standard Time (PST), after which a subscription will be required for continued play.
FINAL FANTASY XI: Ultimate Collection Seekers Edition (Free Software Download)
To help players participate in the Vana'diel Experience campaign, we will be distributing the FINAL FANTASY XI: Ultimate Collection Seekers Edition software for free from now until Monday, December 23 rd, at 6:59 a.m. Pacific Standard Time (PST). This all-in-one edition includes all expansions from Rise of the Zilart through the most recent Seekers of Adoulin.*
For more information on the above campaigns, visit this page.
Information on PlayOnline / FINAL FANTASY XI service account reactivation, as well as character data restoration, can be found here.
Bonus in-game items received for purchasing the retail version of FINAL FANTASY XI: Ultimate Collection Seekers Edition (Destrier Beret and Chocobo Shirt) will not be included in this promotion. Players wishing to continue playing this edition following the trial period must purchase an activation code for the full product here, at which time the bonus in-game items will be provided.
*A registration code will not be included with the download.
FINAL FANTASY XI is rated T for Teen by the ESRB. Please visit the ESRB website for more information: http://www.esrb.org.
About FINAL FANTASY
Since the release of FINAL FANTASY in 1987, this unique RPG series continues to showcase the spectacular visuals, highly imaginative worlds and rich stories leading the industry and earning the highest accolades from users around the world. Titles of the series have so far achieved a cumulative shipment of over 100 million units worldwide.
About FINAL FANTASY XI
FINAL FANTASY XI launched as the first massive online game in the award-winning FINAL FANTASY series, bringing limitless possibilities for adventure. With the world of Vana'diel standing on the brink of war, three powerful nations, united in their plight against the beastmen forces, look to their last hope – brave adventurers just like you. Set out on your own to discover the countless secrets of Vana'diel, or form a party with your friends to purge the beastmen forces and bring home sensational spoils!
About Square Enix, Inc.
Square Enix, Inc. develops, publishes, distributes and licenses SQUARE ENIX, EIDOS® and TAITO® branded entertainment content throughout the Americas as part of the Square Enix Group. The Square Enix Group operates a global network of leading development studios and boasts a valuable portfolio of intellectual property, including: FINAL FANTASY®, which has sold over 100 million units worldwide; DRAGON QUEST®, which has sold over 62 million units worldwide; TOMB RAIDER®, which has sold over 35 million units worldwide; and the legendary SPACE INVADERS®. Square Enix, Inc. is a U.S.-based, wholly-owned subsidiary of Square Enix Holdings Co., Ltd.
More information on Square Enix, Inc. can be found at http://www.na.square-enix.com/.
FINAL FANTASY XI © 2001-2013 SQUARE ENIX CO., LTD. All Rights Reserved. FINAL FANTASY, SEEKERS OF ADOULIN, DRAGON QUEST, EIDOS, SPACE INVADERS, SQUARE ENIX, the SQUARE ENIX logo, TOMB RAIDER, TAITO and Vana'diel are registered trademarks or trademarks of the Square Enix Group. Xbox 360 is a registered trademark of the Microsoft group of companies and used under license from Microsoft. All other trademarks are properties of their respective owners.